Background
Article 62 of the Law of Ukraine "On Prevention of Corruption" requires participants in procurement deals worth more than UAH 20 million to have:
anti-corruption program
anti-corruption commissioner.
A typical anti-corruption program, in turn, assumes a confidential message tool.
In other words, if you know about corruption in public procurement, you should have the opportunity to complain not only to law enforcement agencies but actually to the participant himself. Such a requirement is an integral part of world practices, but how does it work in Ukraine?
We made the first approach in 2019, exploring the TOP 100 state-owned enterprises. This time we are looking at a legal entity of any form of ownership. Our selection criterion is the sum of tenders won in 2019. We are talking about billions of hryvnia, so we expected full anti-corruption compliance.
In addition, in accordance with the Law of Ukraine on public procurement, "the customer is obliged to reject the tender proposal" when "the legal entity that is a participant in the procurement procedure (except for non-residents) does not have an anti-corruption program if the cost of purchasing goods, services or works is equal to or exceeds 20 million hryvnias (including by lot). " Therefore, the responsibility of customers in case of non-compliance is also obvious.
Research
We've selected the TOP 30 companies by the volume of won positions in 2019, the list of which was formed using the BI Prozorro system.
| | |
| --- | --- |
| | The total amount of won propositions for the companies covered amounted to UAH 105, 35 billion. — that is 26.8% of the total. |
In addition to anti-corruption programs, we also looked for orders assigning commissioners, contacts of anti-corruption hotlines, and simply the availability of a functioning website.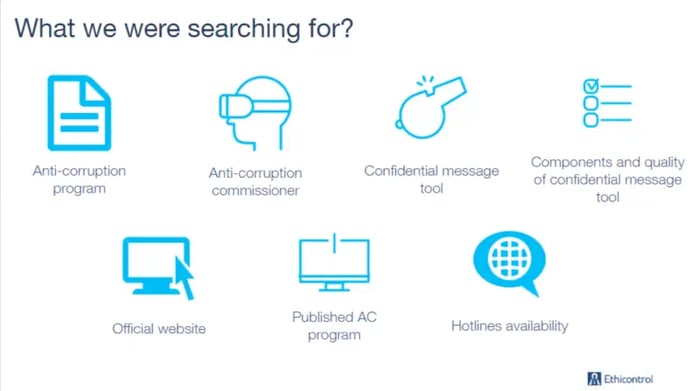 Results
Of the companies reviewed, four do not have an official website (the sum of the won positions for these four companies is UAH 20.48 billion).
12 out of 30 companies have no Anti-corruption program, and only two companies have it published on the official website, the remaining 16 posted it only as a part of the tender documents.
| | |
| --- | --- |
| | Companies that do not have an anti-corruption program won tenders in 2019 in the amount of UAH 27.6 billion. |
A hotline for reporting corruption offenses, including the ones occurring during a tender, is available in only 14 out of 30 enterprises, while six of them have only mentioned a hotline, and its contacts are not publicly available.
| | |
| --- | --- |
| | Only 4 companies participating in public procurement have a full-fledged hotline, which is shown on their websites. |
Companies that have, or are claimed to have an anti-corruption hotline, implemented the following communication channels: