We investigated the Internet representations of Ukrainian banks for the presence of hotlines and the specifics of their work. The research was carried out in March this year and turned out to be interesting, especially if we take into account the NBU decree No. 64.
If we talk about a separate page on the website dedicated to compliance, then almost half of the banks that operate in Ukraine today have such a page.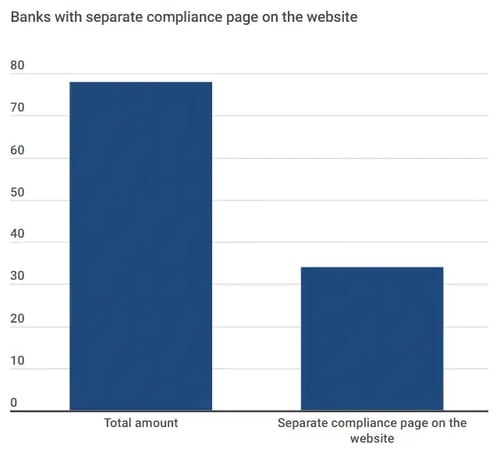 According to the registry of the National Bank, there are 78 banks in Ukraine, and this number is still decreasing. On such pages, as a rule, banks tell about the presence of compliance in the bank, their intolerance to violations of business ethics, and their willingness to consider all complaints about such violations.
| | |
| --- | --- |
| | Only 21 out of 78 banks provide an online ethics breach reporting option. |
But we have to admit that not all the banks that have the aforementioned page provide tools for concerned individuals to report unacceptable behavior.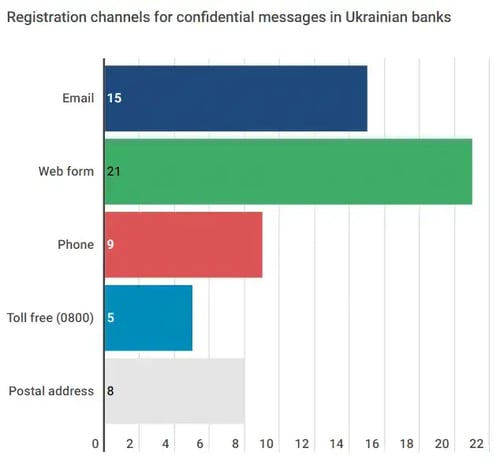 Thus, 21 banks have online reporting forms. Of these, only 9 provide the possibility of anonymous reporting. But even this possibility is an illusion because the absolute majority of mechanisms are placed on the corporate website.
| | |
| --- | --- |
| | Only 9 out of 78 banks provide the full possibility of anonymous reporting. |
Separately, it should be noted about the possibility of adding files to reports through sites — there are only three such banks. Can we talk about the quality of transmitted information without adding files? How many informants are aware of file-sharing sites or other options for uploading files?
There are even fewer other tools, which by no means provide the possibility of anonymous reporting - e-mail (15 banks), city phone number (4 banks), and toll-free number 0800 (5 banks).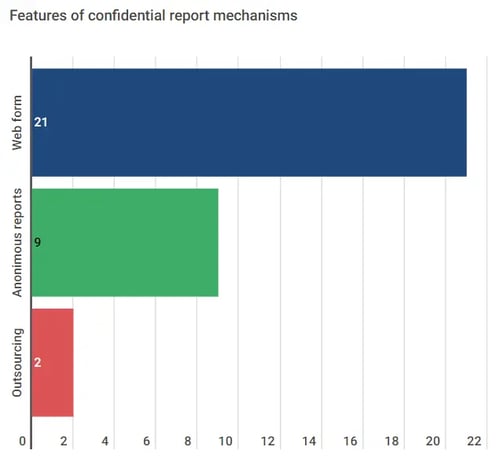 It seems that our banks do not really need information about violations yet, because most do not think about guarantees of anonymity or improving the quality of incoming information.
Only one single bank guarantees the anonymity of registration, by engaging an independent third party, i.e. using outsourcing.
It should be noted that the regulator made special emphasis on the resolution of the possibility of using outsourcing, but most of them simply ignored it.
The full results of the study are available upon request from our company.
Conclusions
The results of the study showed that the formation of compliance in the banking system of Ukraine is taking place, and it is natural that so far the amateur approach to building hotlines prevails. It seems that the majority treated the NBU requirements purely formally, probably in order to avoid extra attention and sanctions within quite a limited time after the decree is published, and the requirements come into force.
But this is already positive, since sooner or later quantity turns into quality. And if anyone needs to do it faster, there is a professional online service, Ethicontrol. If you want something really effective - come to us!