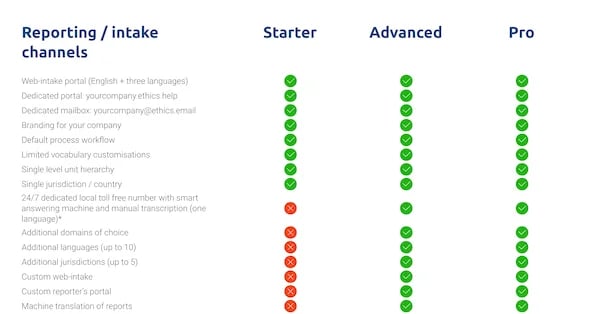 Each compliance officer or a procurement specialist is interested in the actual costs of a whistleblowing hotline. So it is strange that compliance software lacks transparency in its pricing while aiming to bring more integrity and transparency into organisations.
We were the first company to introduce affordable tariff plans, starting from 39 EUR five years ago (now it is 89 EUR / month).
We believe that:
Ethics is a must — not a luxury, so our software should be affordable for smaller companies. For more principles, visit our Painless ethics management page.
Ethics and compliance software should have transparent and fair pricing.

As a result, e.g. we don't charge for users, employees, cases or any other incremental triggers.

Compliance process owners should clearly understand the pricing model to plan the growth of the team and other business users involved in compliance processes in the future.
Compliance officers should be able to explain and reason with top management about the budget for ethics or speak up hotline / other modules of compliance software. And such budget or pricing must be reasonable.
Thus, we continuously improve our pricing model so that it could be more clear to clients.
This time we redrafted the composition of our tariff plans and added more detailed specifications of features included in different plans or modules.
| | |
| --- | --- |
| | The good news is - we have significantly geared the Starter plan (89 EUR per month), which now has incident and case management in addition to whistleblowing intake channels. |
And as usually, custom quotes will remain available for request and will be consistent with the levels depicted on the pricing page.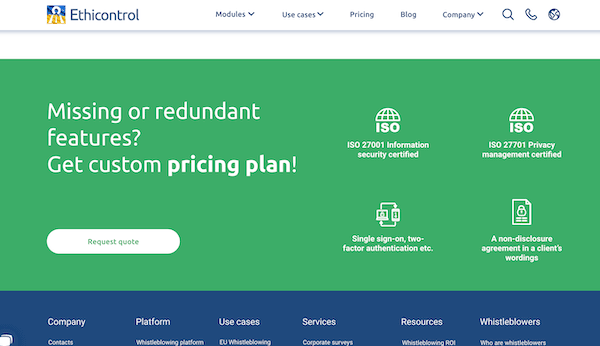 Please visit our new pricing page and remember to visit our Fraud losses / Return on investment calculator to compare the price of a whistleblowing platform with economic benefits from it.